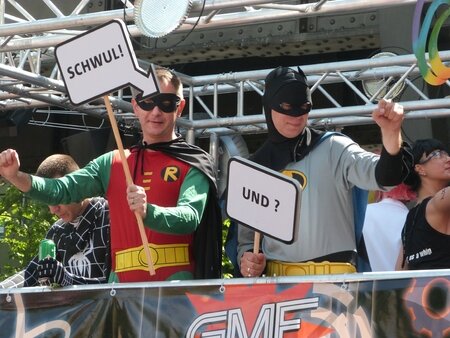 Ce week-end, je suis à Berlin pour la CSD (Christopher Street Day), la gay pride de la capitale allemande. L'une des deux plus importantes marches de l'Allemagne, en concurrence avec Cologne.
L'acceptation par la connaissance (Wissen schafft Akzeptanz), tel était le slogan de cette marche 2012. Une marche qui aura vu plus de 750 000 personnes défiler, un cortège de toutes les couleurs. Entre carnaval et politique, la marche de Berlin est l'une des plus suivies par les milieux LGBT alternatifs. Un message particulier également à destination de la Russie, Berlin ayant été parmi les villes les plus actives à dénoncer la loi contre la "propagande LGBT".
Les plus critiques diront que cette marche contribue à renforcer les clichés que subissent les LGBTs. Les autres diront que c'est un moment de fête. Ce qui est sûr, c'est que c'est un grand moment de la vie LGBT Berlinoise et européenne. Félicitations aux organisateurs !
Ci-dessous quelques photos de vidéos de la CSD Berlin Pride Parade.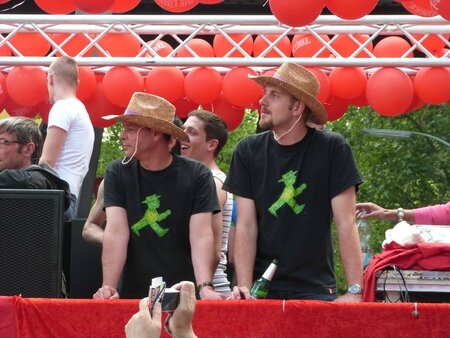 ---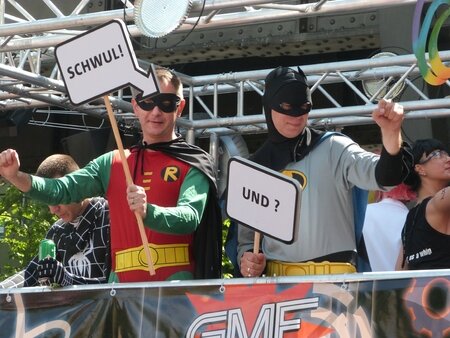 This week-end, I am in Berlin for the CSD (Christopher Street Day), the gay pride of the German capital. One of the most important parade in Germany, in competition with Cologne.
To know is to accept (Wissen schafft Akzeptanz), that was the topic of the 2012 parade. This parade saw more than 750.000 persons marching, a very colorful view. Between carnival and politic, the Berlin parade is one of the most popular in alternative LGBT communities. A special message was meant for Russia, Berlin has been one of the most active city to fight against the Russian "Anti-LGBT-Propaganda-Law".
Some might criticize that this march may contribute to reinforced stereotypes toward LGBTs. Other will answer that it is a celebration. But for sure, the CSD is one of the most important event in the Berlin and European LGBT community. Congratulations to the organizers!
Here some pictures and videos of the CSD Berlin Pride Parade.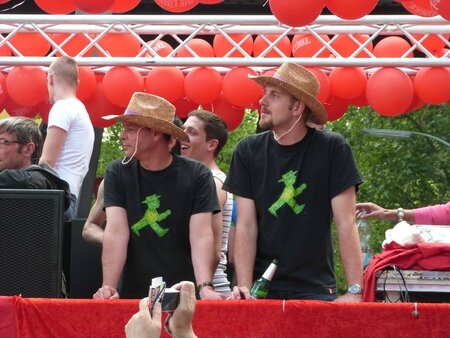 ---