Nous avons maintenant la liste des pays présents au concours Mr Gay Europe 2012, qui se déroulera à Rome du 7 au 12 août prochain.
Et ce ne sont pas moins de 21 jeunes européens qui représenteront leurs pays à Rome ! La France sera représentée par Remy Frejaville de Montpellier.
Ci-dessous la liste complète des candidats. Qui est votre favoris ?
Plus d'infos : http://www.mrgayeurope.com
---
Now we know the list of represented countries for the Mr Gay Europe 2012 contest, which will take places in Rome 7-12 August.
And not less than 21 young Europeans will represent their countries in Rome! France will be represented by Remy Frejaville from Montpellier.
Below the complete list of delegates. Which one is your favorite?
More info: http://www.mrgayeurope.com
---
DELEGATES 2012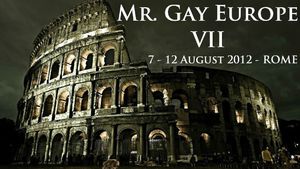 Mr. Gay Europe Official Delegates 2012
AUSTRIA
Name: Joachim Trauner
Age: 29
Height: 181 cm
Zodiac: Taurus
BELARUS
Name: Aleksandr Korik
Age: 24
Height: 176 cm
Zodiac: Libra
BULGARIA
Name: Chavdar Arsov
Age: 25
Height: 176 cm
Zodiac: Sagittarius
CYPRUS
Name: Kiri Spanos
Age: 24
Height: 184 cm
Zodiac: Leo
CZECH REPUBLIC
Name: Tomas Fryda
Age: 24
Height: 178 cm
Zodiac: Leo
DENMARK
Name: Jobbe Joller
Age: 23
Height: 179 cm
Zodiac: Scorpio
ESTONIA
Name: Vadim Firsa
Age: 22
Height: 170 cm
Zodiac: Virgo
FINLAND
Name: Janne Tiilikainen
Age: 26
Height: 175 cm
Zodiac: Saggitarius
FRANCE
Name: Remy Frejaville
Age: 31
Height: 178 cm
Zodiac: Aries
GERMANY
Name: Chris Janik
Age: 35
Height: 178 cm
Zodiac: Scorpio
GREECE
Name: Argyrios Stelios Christakis
Age: 29
Height: 175 cm
Zodiac: Cancer
IRELAND
Name: Steven Baitson
Age: 22
Height: 180 cm
Zodiac: Leo
ITALY
Name: Nicholas Menna
Age: 27
Height: 184 cm
Zodiac: Gemini
MALTA
Name: Steve Grech
Age: 31
Height: 178 cm
Zodiac: Pisces
NORTHERN IRELAND
Name: Daniel Hegarty
Age: 21
Height: 191 cm
Zodiac: Taurus
NORWAY
Name: Sebastian Okshovd
Age: 22
Height: 165 cm
Zodiac: Virgo
SLOVAK REPUBLIC
Name: Martin Lhota
Age: 21
Height: 168 cm
Zodiac: Aries
SPAIN
Name: Miguel Ortiz
Age: 19
Height: 183 cm
Zodiac: Saggitarius
SWEDEN
Name: Erik da Silva
Age: 26
Height: 180 cm
Zodiac: Taurus
SWITZERLAND
Name: Stephan Bitterlin
Age: 43
Height: 176 cm
Zodiac: Cancer
TURKEY
Name: Denis Hamdi
Age: 25
Height: 176 cm
Zodiac: Scorpio