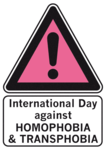 17 May is the International Day Against Homophobia which aims to commemorate the World Health Organisation's decision to remove homosexuality from the list of mental disorders (in 1990) and to call for more respect towards lesbians and gays worldwide.
Homophobia is a range of negative attitudes and feelings towards lesbian and gay people. Homophobes are people who fear and hate homosexuality and homosexuals and do not accept that gay people should have the same rights as heterosexuals.
But why are people being homophobic? According to studies and researches there are many reasons, such as: religious beliefs, education, social environment and others.
1. Hating gays may reassure themselves that they are not gay, especially if they harbour doubts about their own sexual orientation.
2. Seeing a feminine man evokes anxiety in many men as it triggers an awareness of their own feminine qualities, which they see as being a sign of weakness. That's why women are being more tolerant.
3. The bible says homosexuality is a sin. It is hard to change a religious person's mind about homosexuality as the servers of the bible influenced with information for more than 2000 years.
4. Fear. People are afraid of being different; people are afraid of being judged; people are afraid of the unknown.
That's why Coming Out is the most powerful strategy for combating homophobia and discrimination, as it eradicates negative stereotypes about gay people. You need courage and perseverance to deal with it. Just be yourself!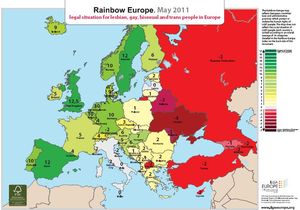 We are several LGBT blogers around Europe and here is our contribution to the International Day Against Homophobia.
1- France - Benjamin, Gay et Européen - http://bengayeuropeen.canalblog.com/
2 - Poland - Abiekt - http://abiekt.blogspot.com/
3 - Romania - DarkQ.net: Romanian gay blog - http://www.darkq.net/
4 - Moldova - Sunt gay in Moldova - http://www.suntgayinmoldova.blogspot.com/
5 - Germany - Schwules Schwaben - http://schwuleschwaben.blogspot.com
1- France - Benjamin, Gay et Européen - http://bengayeuropeen.canalblog.com/
Bruno Wiel is a 33 years-old French man from Brittany. During the night of the 19th / 20th July 2006, he went to a gay bar in Le Marais, the gay arrondissement in Paris. As he went out of a gay bar, some guys in a car offered him a ride, which he accepted and jumped in. This is how hell started for him.
The four men brought him to a park in Vitry-sur-Seine where they started to fight him. For "fun", they burned him with cigarettes and raped him with a piece of wood. They kept going on and on, fighting him, burning him and raping him without any humanity.
Fortunately, some people found him back, naked and dying in the park. After 7 months in a hospital, his life was saved, even if he got severely injured. Half of his brain is atrophied and he had to learn how to speak again. His life will never be as it used to be before.
In France, this kind of story is unfortunately not unique. According to SOS Homophobie, one of the most important French NGO's against homophobia, homophobia is on the rise in France. The number of calls and emails they received, increased by 18% in 2010. Every year brings its number of homophobic stories in France, even if it is difficult to have statistics.
More facts about homophobia in France (FR):
http://www.sos-homophobie.org/sites/default/files/rapport_annuel_2011.pdf
Homophobia has no future!

2 - Poland - Abiekt - http://abiekt.blogspot.com/
I do not want to write about murders, beatings, bullying, all that happens in Poland as well.
I would like to remind everyone that the lack of a domestic partnership law is the responsibility of homophobic politicians. So today we ask all the politicians who "celebrate" IDAHO what they did in their countries to bring civil partnerships into law. Today a left-wing party in Poland presented a draft for a law on domestic partnerships. But there is no word about children raised by same-sex couples. The fight against homophobia is also a fight to ensure that our children receive full citizenship.
Homophobia has no future!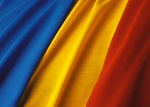 3 - Romania - DarkQ.net: Romanian gay blog - http://www.darkq.net/
Homophobia is all about fear and hatred of homosexuality and homosexual people. It's bigotry aimed at gays, lesbians, and bisexuals for who they are and what they represent.
Homophobes target people they assume to become homosexual, however they also fear and despise any character trait or behavior that is different using their idea of the heterosexual standard. One doesn't have to be gay to become a target of homophobia.
In Romania, like in most eastern European countries, sometimes homophobia is the reason why gay people stay closeted, away from what they really are.
Homophobia it's the result of being trapped in your own mind. And, yeah, it's treatable.
Be proud to be gay!
Homophobia has no future!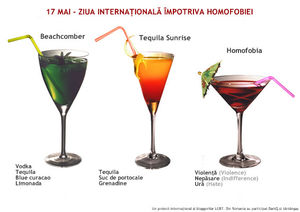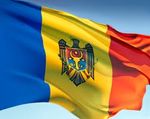 4 - Moldova - Sunt gay in Moldova - http://www.suntgayinmoldova.blogspot.com/
A country with big aspirations, great traditional values, great landscapes, a big desire to enter the EU and also with a big discriminatory attitude towards the LGBT community and other social minorities.
During the past 5 years, LGBT meetings were banned by local authorities, because the church protested against them and because society is not ready to accept gays, although we have the freedom of speech and meetings. The most outrageous act of discrimination and violence was on 11th of May 2008 in Chisinau. The LGBT community wanted to march in front of a Government building to support a law against discrimination. A group of homophobic people blocked the bus with members of the LGBT community; they were shouting discriminatory slang; they were threatening gays and also the bus driver. The police did not interfere. It was chaos let free. You can watch the video here: http://www.youtube.com/watch?v=vtGXVdA6rgY&feature=related.
More information about discrimination cases in the Republic of Moldova: https://docs.google.com/viewer?a=v&pid=explorer&chrome=true&srcid=0B6sMXqchh6_bNTMwMTU0MTctZjYwMi00NGRlLWFkMDMtMjZkY2M4ZmIxYTI5&hl=en
It will take many years for our society to be tolerant and celebrate diversity. Political leaders lack the knowledge about homosexuality and so they say that this is an illness; the media are spreading misinformation, the courts of law leave cases unsolved, but step by step we have friends who understand, who tolerate and support us.
Homophobia has no future!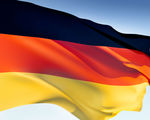 5 - Germany - Schwules Schwaben - http://schwuleschwaben.blogspot.com
1 At German schools students choose the word "gay" as their favourite way of insulting other students.
2 In Germany two gay men were killed recently by a road side killer who targeted gay men only.
3 There is still no discussion about the situation of gay public service workers e.g.: teachers, soldiers, doctors etc. who are paid by the government.
4 There is also a so called "glass ceiling" in German companies, which means that certain individuals are promoted only until they reach this so called glass ceiling and from that point on they are usually overlooked when it comes to promotions. This is being experienced often by women, minorities and of course gays and lesbians.
5 The situation at the work place for gays and lesbians obviously can range from good to acceptable to very bad. Still there are no public messages coming from union leaders to correct this or at least to raise awareness to this problem. So gays and lesbians often feel left alone dealing with their particular situation at the work place.
Homophobia has no future!
Looking at the whole situation today there remains a lot to be done to fight discrimination and homophobia.
So please everybody join in the fight against homophobia!
There are so many things you can do:
Connect with people either gay or straight if they have an open heart and mind.
Get involved, act local and think global.
Become vocal in your neighbourhood, show that you care for other people and expect other people to care for you as well.
Above all contribute towards that great flux of energy, news and information on the Internet (gay blogs, twitter, face book etc.) to improve the situation of gays and lesbians around the world.