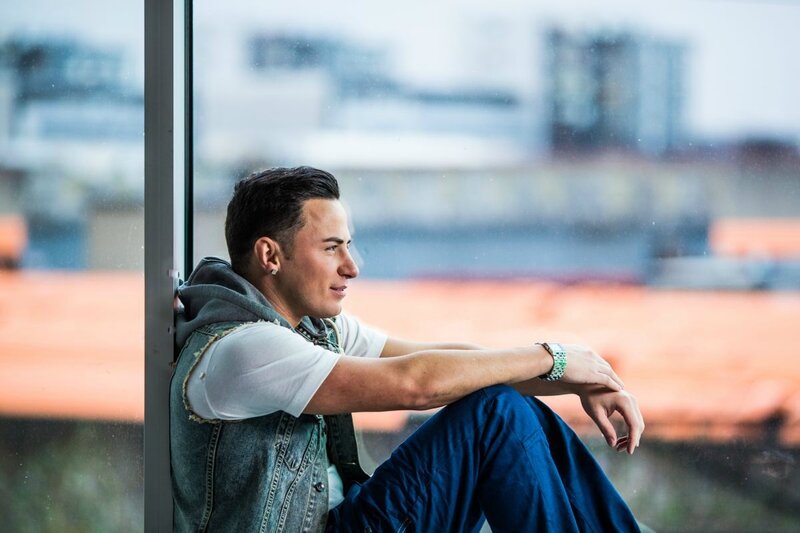 Ryan Dolan est un jeune chanteur irlandais, notamment connu pour avoir représenté son pays à l'Eurovision 2013 en Suède avec la chanson Only Love Survives.
Depuis, le jeune Ryan a fait son coming-out, un moment difficile pour lui puisqu'il explique avoir eu besoin de plus de 10 ans pour le dire à sa famille.
Aujourd'hui, Ryan s'assume complétement et revient avec une chanson contre le suicide chez les jeunes homos. Voici sa chanson Start Again, à découvrir et partager.
---
Ryan Dolan is a young Irish singer mostly known for representing his country at the 2013 Eurovision Song Contest in Sweden with the song Only Love Survives.
Since then, the young Ryan came out. It has been a difficult path for him as he explained he needed more than 10 years to say it to his family.
Today, Ryan is feeling proud and come back with a song against gay teen suicide. Here is his song Start Again, to discover and share.
---
I guess life was tough, growing up
I didn't even know if I could make it or not
'Cause every day is harder on your own
And when they look at me, it's clear to see
That they don't want to be the ones who hang around with me
So now I guess I'll go it on my own
Life was hard and I got down
But I got up and carried on
Time passed so slow
The life I lived was all in vain
A worthless show, a pointless game
Time was so cold
'Cause I can live a lifetime living these lies
I can laugh and act OK
I can show a smile and say I'm happy
But there has got to be a better way
I wanna live
I wanna love
Don't wanna care about anything
'Cause I can live a lifetime living this life
I'll start again
I'm tongue-tied, feels like
I'm losing hold of this life
But I don't wanna be the one I love
No
Life was hard and I got down
But I got up and carried on
Time passed so slow
The life I lived was all in vain
A worthless show, a pointless game
Time was so cold
'Cause I can live a lifetime living these lives
I can laugh and act OK
I can show a smile to say I'm happy
But there has got to be a better way
I wanna live
I wanna love
Don't wanna care about anything
'Cause I can live a lifetime living this life
I'll start again
'Cause I can live a lifetime living these lies
If I start again
I can laugh and act OK
I can show a smile and say I'm happy
But there has gotta be a better way
I wanna live
I wanna love
And I don't care about anything
'Cause I can live a lifetime living this life
I'll start again
So I won't waste a lifetime living this life
I'll start again