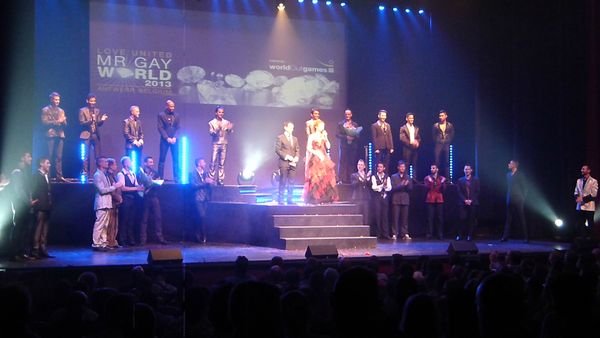 C'est un fait. Aucun des candidats européens européens ne s'est qualifié dans le top 10 de la finale de Mr Gay Monde 2013, qui s'est déroulé ce dimanche à Anvers en Belgique.
Pourtant, comme chaque année, l'Europe est la plus importante délégation : 9 candidats sur 25 sont européens. Plus d'un tiers.
On sent le malaise arriver. Les annonces des résultats aux épreuves partielles donnent des points d'avances aux candidats non européens et en particulier au candidat de la Nouvelle Zélande, Christopher Olwage. Ce dernier remporte le prix du costume national et du défilé en maillot de bain. Pour les deux, c'est le choix du jury et à l'annonce des résultats, le public semble très surpris. Oui Christopher Olwage est un bon candidat, mais méritait-il ces deux prix ?
A l'annonce du top 10, le résultat se concrétise. Aucun des candidats européens n'est qualifié pour le top 10...
Les candidats européens étaient-ils si mauvais pour qu'aucun d'entre eux ne se qualifie dans le top 10 ? Ou est-ce que les candidats européens ont été boycottés par le jury ?
Attention ! Je ne dis pas que le gagnant ne mérite pas sa victoire et que les candidats du top 10 ne méritent pas leur place. Bien au contraire, ils ont tous été très bon.
Cependant il est surprenant qu'aucun des candidats européens ne soit dans le top 10. Sans remettre en cause le gagnant, il y avait d'excellents candidats européens et certains auraient largement mérité leur place dans le top 10. De plus, étrange coïncidence qu'un même pays gagne deux fois de suite, même si c'est déjà arrivé dans le passé avec l'Afrique du Sud.
Cette mise à l'écart de l'Europe est d'autant plus injustifiée que le concours Mr Gay Monde se déroule en Europe, à Anvers en Belgique et que l'année prochaine, le concours reste en Europe et se déroulera à Rome en Italie.
Bravo à tous les candidats pour leur participation au concours et un pensée spéciale pour tous les candidats européens qui auraient largement mérité leur place en finale !
---
This is a fact. No European European delegates qualified in the top 10 of the final of Mr Gay World 2013 held in Antwerp in Belgium on Sunday.
Though, as every year, Europe was the largest delegation: 9 out of 25 delegates are European. More than a third.
We feel it coming. As the first results are announced, first points are given to non-EU countries and in particular to the delegate from New Zealand Christopher Olwage. The latter won the national costume and swimwear. For both, it is the jury's choice and as the results were announced, the public seemed surprised. Yes Christopher Olwage is a good delegate, but did he deserved these awards?
At the announcement of the top 10, the result came true. No European delegate made it in the top 10 ...
Were the European delegates so bad that none of them qualified in the top10? Or have the European delegates been boycotted by the jury?
Attention! I'm not saying the winner does not deserve his victory and that the top 10 was not right. Quite the opposite, all the boys in the top 10 were very good!
However, it is surprising that none of the EU countries is in the top 10. Without questioning the winner, there were some excellent European delegates and many of them would have deserved their place in the top 10. In addition, this is a strange coincidence that the same country won twice in a row, even if it has already happened in the past with South Africa.
This sidelining of Europe is even more unjustified as Mr Gay World contest took place in Europe, in Antwerp, Belgium, and the next year's competition will also be in Europe, in Rome, Italy.
Congratulations to all the delegates for their participation in the contest and a special thought for all European delegates who have more than deserved their place in the final!