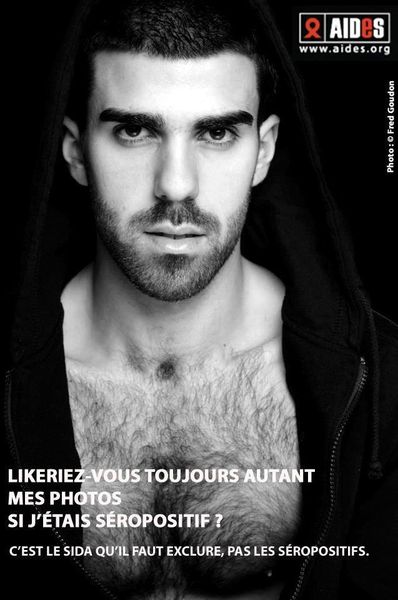 Les concours Mr Gay Europe et Mr Gay Monde ne sont pas des concours de beauté. Bien au contraire, le but est d'élire un porte parole pour la communauté LGBT, un modèle pour les jeunes gays et un visage pour la lutte contre l'homophobie.
Et c'est bien tous le sens de sa participation. Armando Santos, le candidat français de Mr Gay Europe et Mr Gay Monde 2013, n'est pas seulement un physique, mais aussi un militant engagé dans la communauté LGBT. Une cause lui tient particulièrement à coeur, la lutte contre le sida. Il le prouve une nouvelle fois ce mois-ci en posant pour la campagne de prévention de l'association Aides. Une magnifique affiche !
Mais son soutien ne s'arrête pas à une affiche, puisqu'il était déjà engagé dans le milieu associatif depuis plusieurs années et qu'il a également déjà annoncé que l'intégralité des gains s'il gagne les concours Mr Gay Europe et Mr Gay Monde sera reversée à l'association Aides.
Bravo Armando Santos ! Suivez le sur sa page Facebook : https://www.facebook.com/ArmandoSantosFrance Et surtout, votez pour Armando au vote du public pour Mr Gay Monde : http://bit.ly/13IHH2b
---
The Mr Gay Europe and Mr Gay World contests are not only a beauty pageant. Quite the contrary, the aim is to elect the spokesman of the LGBT community, role model for the young gays and a face for the struggle against homophobia.
This is exactly the meaning of his participation. Armando Santos, French delegate at Mr Gay Europe and Mr Gay World 2013, is not only a pretty face, he is also an activist involve in the LGBT community. He is particularly involve in the prevention against aids. He is proving it a new time this month as he is posing for the prevention campaign of the Aides NGO. What a great poster!
However, his support is not limited to this poster, as he has already been involved in the last years in this field. Besides, Armando already announced that the benefits if he wins the competitions will all be donated to the Aides NGO.
Congratulations Armando Santos! Follow him on his Facebook page: htps://www.facebook.com/ArmandoSantosFrance and even more important, vote for Armando at the public choice award here: http://bit.ly/13IHH2b