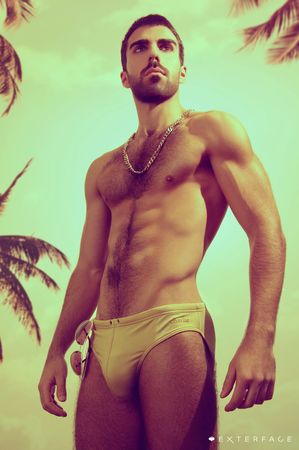 C'est officiel ! Les noms des premiers candidats à Mr Gay Monde viennent d'être dévoilés. Et il y a du lourd !
Tout d'abord, c'est un grand honneur de voir la France présente pour la deuxième année consécutive. Comme vous le savez, c'est Armando Santos qui sera notre représentant et nous sommes tous derrière lui pour le soutenir ! Vous pouvez le suivre sur sa page Facebook : https://www.facebook.com/ArmandoSantosFrance
Des visages connus également. Le plus connu du groupe est Miguel Ortiz Vera, Mr Gay Europe 2012. Comme il n'avait pas participé à Mr Gay Monde 2012, il participe en 2013. La même chose pour Janne Tiilikainen, Mr Gay Finlande, qui avait été dans le top 5 à Mr Gay Europe 2012. Des candidats déjà confirmés pour Mr Gay Europe 2013 sont également présents comme Michael Sinan pour le Danemark, Alessio Cuvello pour l'Italie ou Robbie O'Bara pour l'Irlande. A noter que les participants de Mr Gay Monde ne sont pas obligatoirement les mêmes qu'à Mr Gay Europe.
Comme chaque année et ce n'est pas surprenant étant donné la situation, l'Afrique est le continent le moins représentés. En revanche, l'Asie est plus présente qu'en 2012.
Plus d'infos à suivre !
---
It is official! The names of the first Mr Gay World delegates have been revealed. And there are some good surprises!
First, this is a big honour to see France participating another year. As you know, we will be represented by Armando Santos and we are all mobilized to support him! You can follow his Facebook page: https://www.facebook.com/ArmandoSantosFrance
There are some known faces as well. The most famous one is obviously Miguel Ortiz Vera, Mr Gay Europe 2012. As he did not participate to Mr Gay World 2012, he will be part of Mr Gay World 2013. The same situation for Janne Tiilikainen for Finland, who ended up in the top 5 of Mr Gay Europe 2012. Some other candidates we already knew because they are confirmed for Mr Gay Europe 2013, like Michael Sinan for Denmark, Alessio Cuvello for Italy and Robbie O'Bara for Ireland. Note that the delegates for Mr Gay World are not always the same as for Mr Gay Europe contest.
As every year, we will not be surprised because of the situation on the spot to see that Africa is the least represented continent. However, Asia is more represented than in 2012.
More info to come!
---
Delegates 2013
Mr. Gay World Official Delegates 2013
ARGENTINA
Name: Diego Hernan Potiniano
Age: 32
Height: 175 cm
Zodiac: Pisces
AUSTRALIA
Name: To be announced
Age:
Height:
Zodiac:
AUSTRIA
Name: To be announced
Age:
Height:
Zodiac:
BELGIUM
Name: To be announced
Age:
Height:
Zodiac:
BRAZIL
Name: Marcio Evandro Maia
Age: 33
Height: 180 cm
Zodiac: Cancer
BULGARIA
Name: Andrey Krymov
Age: 25
Height: 176 cm
Zodiac: Taurus
CANADA
Name: Danny Dionysios Papadatos
Age: 28
Height: 178 cm
Zodiac: Aquarius
CZECH REPUBLIC
Name: Marek Zly
Age: 34
Height: 180 cm
Zodiac: Aquarius
CHILE
Name: Jean Daniel Muños
Age: 25
Height: 180 cm
Zodiac: Leo
DENMARK
Name: Michael Sinan
Age: 35
Height: 181 cm
Zodiac: Leo
FINLAND
Name: Janne Tiilikainen
Age: 27
Height: 175 cm
Zodiac: Sagittarius
FRANCE
Name: Armando Santos
Age: 26
Height: 176 cm
Zodiac: Libra
HONG KONG
Name: Benjie Vasquez Caraig
Age: 31
Height: 176 cm
Zodiac: Aquarius
Name: Nolan Lewis
Age: 29
Height: 173 cm
Zodiac: Cancer
IRELAND
Name: Robbie Obara
Age: 26
Height: 189 cm
Zodiac: Sagittarius
ITALY
Name: Alessio Cuvello
Age: 25
Height: 175 cm
Zodiac: Libra
MEXICO
Name: Jaime David Montes Bernal
Age: 25
Height: 176 cm
Zodiac: Taurus
MYANMAR
Name: Sai Pye Myo Kyaw
Age: 28
Height: 180 cm
Zodiac: Gemini
NAMIBIA
Name: Ricardo Raymond Amunjera
Age: 30
Height: 181 cm
Zodiac: Aries
THE NETHERLANDS
Name: To be announced
Age:
Height:
Zodiac:
NEW ZEALAND
Name: Christopher Michael Olwage
Age: 27
Height: 178 cm
Zodiac: Taurus
NORTHERN IRELAND
Name: To be announced
Age:
Height:
Zodiac:
PAKISTAN
Name: Amir Rafique
Age: 29
Height: 170 cm
Zodiac: Scorpio
PHILIPPHINES
Name: To be announced
Age:
Height:
Zodiac:
PUERTO RICO
Name: To be announced
Age:
Height:
Zodiac:
RUSSIA
Name: To be announced
Age:
Height:
Zodiac:
SOUTH AFRICA
Name: Steve Williams
Age: 38
Height: 180 cm
Zodiac: Pisces
SPAIN
Name: Miguel Ortiz
Age: 20
Height: 183 cm
Zodiac: Sagittarius
SWEDEN
Name: Fritiof Teodor Ingelhammar
Age: 20
Height: 187 cm
Zodiac: Gemini
SWITZERLAND
Name: To be announced
Age:
Height:
Zodiac:
TAIWAN
Name: To be announced
Age:
Height:
Zodiac:
UKRAINE
Name: Pavlo Pavlovich Fedchenko
Age: 23
Height: 177 cm
Zodiac: Aquarius
USA
Name: To be announced
Age:
Height:
Zodiac:
VENEZUELA
Name: Diego Catalan
Age: 32
Height: 175 cm
Zodiac: Aquarius