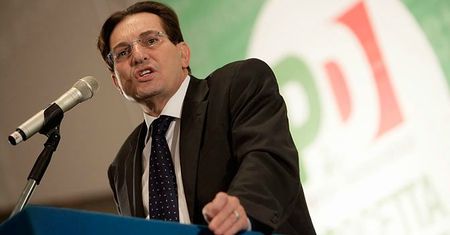 L'ouragan Sandy aurait-il aussi touché la Sicile ? En tout cas, la presse italienne parle d'un véritable seisme en Sicile avec la victoire surprise de Rosario Crocetta, l'une des figures emblématiques de la lutte contre la mafia sicilienne, député européen de centre gauche dans une région profondément ancrée à droite, à l'élection régionale de Sicile.
Car en plus d'être de gauche, Rosario Crocetta est ouvertement homosexuel, le premier maire d'Italie a avoir fait son coming-out et aujourd'hui le deuxième président de région gay après Nichi Vendola, président de la région des Pouilles (Puglia). Deux régions du sud de l'Italie, pourtant réputé très conservateurs avec une forte présence de la religion.
La société italienne change et c'est un nouveau signal positif que la Sicile envoit à l'Italie pour l'égalité des droits LGBT.
Bravo à la Sicile !
---
Did the Hurrican Sandy also hit Sicily? All the Italian medias are talking about a real earthquake in Sicily after the unexpected victory of Rosario Crocetta, one of the most influencial political involved in the struggle against the Sicilian mafia, European Deputy and member of the center left party in a region that historically tends to vote for right wing parti at the regional Sicilian election
Not only is Rosario Crocetta left wing, he is also openly gay, the first gay mayor in Italy to come out and today the second gay president of an Italian region after Nichi Vendola, president of the Apulia region. Two regions from the south of Italy, which is seen as conservative and deeply religious.
The Italian society is changing and Sicily is sending a positive signal to Italy for equality and LGBT rights.
Congratulations Sicily!