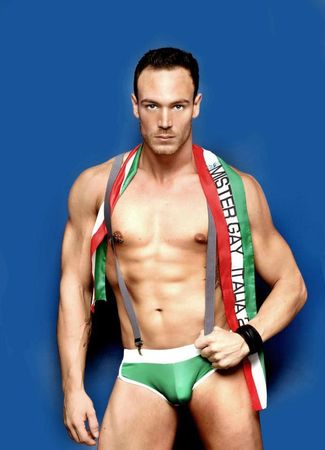 Un nouveau Mr. Gay a été élu ces dernières semaines et il s'agit de Mr. Gay Italie 2012, Alessio Cuvello.
Originaire de Sicile, mais vivant à Milan depuis que ses parents l'ont rejeté quand ils ont appris son homosexualité, Alessio a remporté l'éléction Mr Gay Italie avec brio pas seulement pour son physique, mais aussi grâce à son caractère et son histoire.
Car Alessio est...papa ! A seulement 24 ans, il a un petit garçon de 3 ans qu'il a eu avec son ex-femme, qui est son premier soutien et avec qui les relations sont excellentes. "Lorsque j'ai remporté le concours Mr Gay, mon ex-femme m'a téléphoné pour me féliciter et ma mère pour m'insulter" a déclaré Alessio dans un journal.
Vous pouvez suivre Alessio sur sa page Facebook : http://www.facebook.com/pages/Alessio-Cuvello-Mr-Gay-Italia-2012/460570073964369
Bravo à Alessio pour son éléction et bonne chance pour son année !
---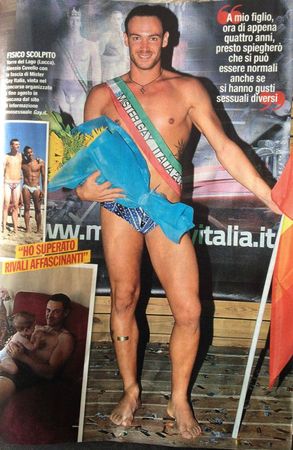 A new Mr Gay has been elected in the last weeks and we say congratulations to Mr. Gay Italy 2012, Alessio Cuvello.
Born in Sicily but now living in Milan since he has been rejected by his parents after his coming-out, Alessio won the Mr Gay Italy contest in a brilliant way not only for his physic, but thanks to his personality and story.
Because Alessio is...father! Up from his 24 years, Alessio has a 3 years-old little boy he made with his ex-wife, who is his first support, their relationship is excellent. "As I won the Mr Gay Contest, my ex-wife called me to congratulate me and my mom called me to insult me" said Alessio in a newspaper.
You can follow Alessio on his Facebook page: http://www.facebook.com/pages/Alessio-Cuvello-Mr-Gay-Italia-2012/460570073964369
Congratulations to Alessio for his election and good luck for this year!