English text below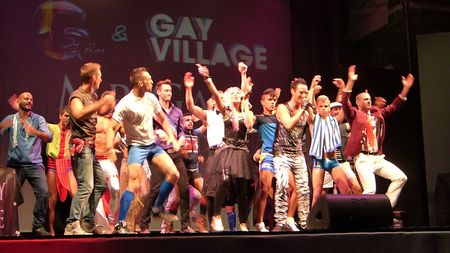 Et le concours Mr Gay Europe 2012 vient de se terminer ce samedi 11 août à Rome en Italie sur la victoire de Miguel Ortiz, le jeune candidat espagnol. Retour sur ce concours européen.
Tout au long de la semaine, les candidats ont participé à de nombreuses épreuves. Talent, défilé, sport, culture, les épreuves étaient nombreuses et variées pour obtenir des points précieux pour obtenir le titre tant convoité.
La finale a été ouverte par Kai Thomas, candidat norvégien de Mr Gay Europe 2008, en duo avec Baby M, sur la chanson "Be Proud", une chanson qui est presque un hymne pour la communauté LGBT.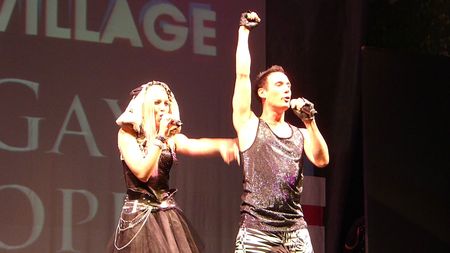 Sur cette chanson, les candidats sont montés sur scène en costumes nationaux. Ce fut malheureusement assez bref, il s'agit d'une épreuve que j'aime bien, il est très intéressant de voir comment les candidats se choisissent un costume "national", reflet de leur propre identité ou gros cliché. Je suis resté sur ma fin en ne pouvant pas voir plus en détails les costumes.
Vient ensuite une petite présentation des candidats avec une nouvelle fois la chorégraphie 2012.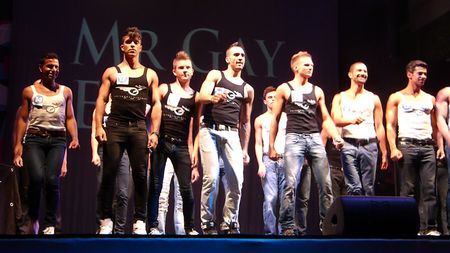 Puis deuxième défilé sur le thème "Clubbing". Comment les candidats s'habillent pour aller en boite de nuit ? Certains sont plus habillés que d'autres, certains plus à la mode, d'autres plus classiques. Quelques nuances, mais dans l'ensemble des habits assez similaires. Il est vrai que depuis longtemps les boites européens se sont standardisées pour ne diffuser que le même type de musique, en général venue des États-Unis, avec la mode qui l'accompagne. L'Europe en perte d'identité ? Faut-il créer une culture européenne du monde de la nuit ?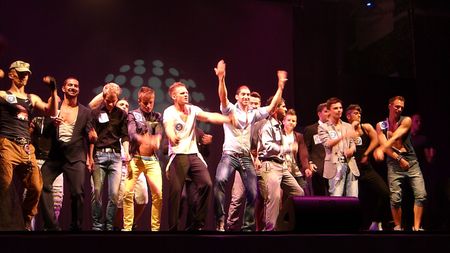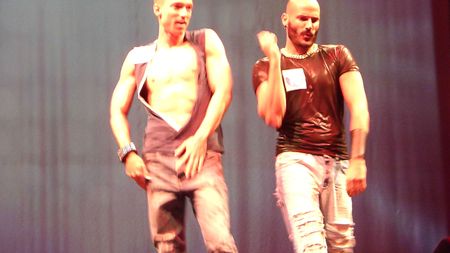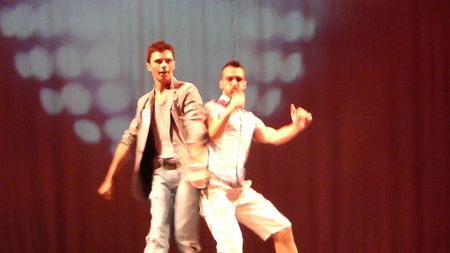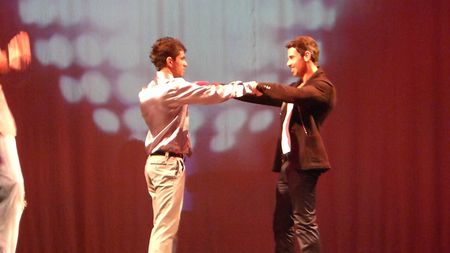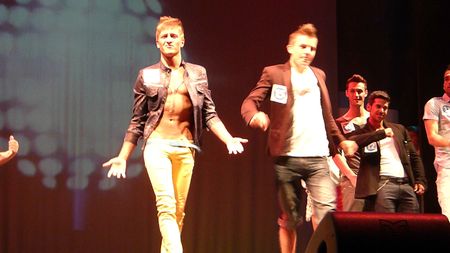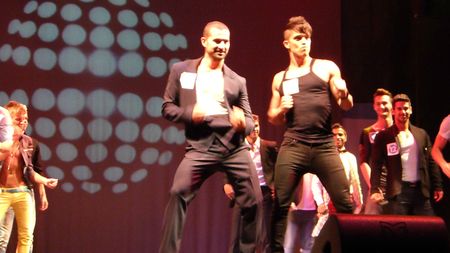 Un nouveau défilé en maillot de bain, mais différents de la compétition de la veille. Pas de grands changements et une épreuve toujours très appréciée par le public.
C'est ensuite au tour de l'épreuve "Congeniality", un terme anglais qui signifie à la fois amitié/popularité. Chaque candidat a une rose qu'il doit donner au candidat avec lequel il a noué des liens plus particuliers. Le grand favoris était bien sûr Argyrios Stelios Christakis, le candidat grec, qui malgré son handicap (surdité) a participé comme tous les autres et avec autant de force. Son courage et sa gentillesse ont été récompensés par 4 roses, ce qui lui a permis de remporter cette épreuve. Une victoire bien méritée. A noter que presque tous les candidats avaient une rose, cela prouve que l'ambiance a été très bonne entre les Mr Gay.
Et avant l'annonce des 5 finalistes, remise des prix des différentes épreuves. La Grèce remporte le prix de Mr Photogénique, l'Italie remporte le prix de Mr Maillot de Bain et Mr Sport, Mr Gay Chypre le titre de Mr Talent et le prix le plus prestigieux de tous, le prix du vote en ligne du public est remporté par Mr Gay Espagne.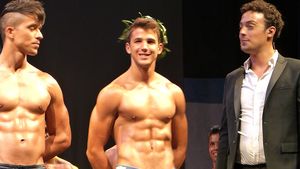 Si certains candidats sortent un peu du lot, il reste difficile de savoir qui l'emportera au moment de l'annonce des 5 finalistes. Le verdict tombe et l'Espagne, l'Italie, Malte, la France et la Finlande sont qualifiés dans le top 5 ! L'Italie et la Finlande créent la surprise, tandis que l'Espagne, Malte et la France étaient dans les favoris. Déception pour Mr Gay Grèce en revanche qui s'était démarqué tout au long de la semaine.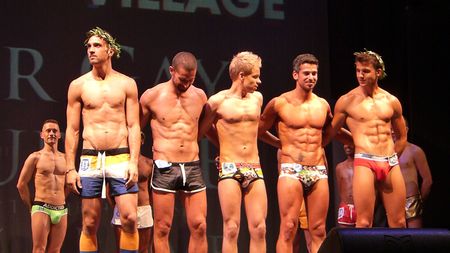 Pour les départager, chacun doit répondre à une question. L'originalité vient du fait que les questions sont cette année posées par les candidats non qualifiés.
Première question pour Miguel Ortiz, le candidat espagnol : Pourrais-tu être en couple avec une personne sourde ou handicapé ? Et la réponse que l'on attendais : Quand on aime, on aime la personne comme elle est.
Deuxième question pour Steve Grech, Mr Gay Malte : Que ferais-tu si tu devenais pape ? Réponse évidente : J'autoriserai l'homosexualité et soutiendrais les droits LGBT.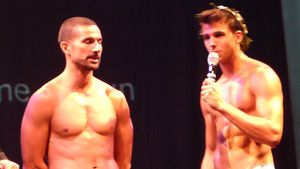 Troisième question pour Janne Tiilikainen, Mr Gay Finlande. Une question délicate : que faut-il améliorer dans la communauté LGBT ? Pour Janne, il faut plus de lien, que les gens soient plus proches, un peu comme une famille.
Quatrième question pour Rémy Frejaville, candidat français : Quelle a été la plus belle expérience dans ta vie ? Rémy répond qu'il s'agit de sa participation à Mr Gay Monde qui lui a ouvert les yeux sur la situation d'autres pays.
Et dernière question pour Nicholas Menna, Mr Gay Italie : Qu'as tu appris lors du concours Mr Gay Europe 2012 ? Sa réponse est franche : "C'est la première fois que je rencontre un sourd et faire sa connaissance a changé ma vision de ce handicap".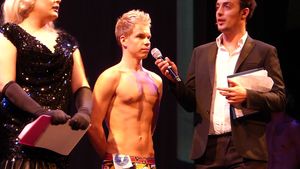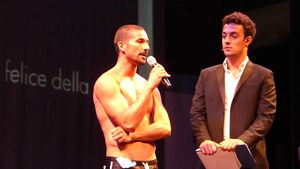 Suite à ces réponses, le jury annonce les 3 finalistes. Et c'est la fin de l'aventure pour Mr Gay Finlande et Mr Gay France. Petite déception pour la France après le succès de Rémy a Mr Gay Monde 3 mois auparavant et son investissement tout au long du concours Mr Gay Europe, mais c'est le jeu et Rémy peut être fier de sa participation, il a été un excellent candidat pour la France et un très bon ambassadeur pour le concours dans notre pays.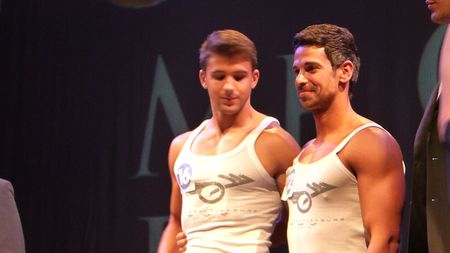 Le suspens touche à sa fin et Tore Aasheim, président de la fondation Mr Gay Europe, annonce les résultats finaux. Mr Gay Italie est deuxième dauphin, Mr Gay Malte premier dauphin et c'est l'Espagnol Miguel Ortiz qui remporte le concours Mr Gay Europe 2012 !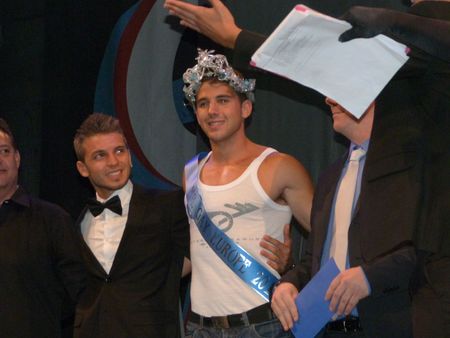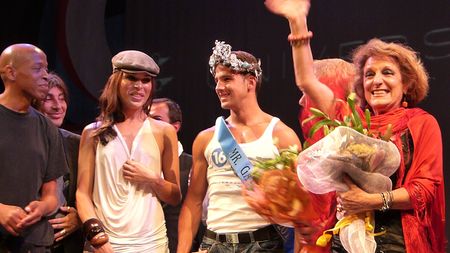 Le public se lève pour applaudir le nouveau tenant du titre qui sera l'ambassadeur de la communauté LGBT européenne. Du haut de ses 19 ans, Miguel a pu compter sur son physique pour donner à l'Espagne sa 3ème victoire au concours. Il ne réalise peut-être pas encore la tâche qui l'attend, mais il aura une année pour prouver au public qu'il mérite sa confiance.
Félicitations à Miguel Ortiz pour sa victoire ! Bravo à l'Espagne pour sa 3ème victoire ! Et bravo à tous les candidats pour leur participation et avoir rendu l'édition 2012 du concours si particulière.
Je tiens à remercier personnellement la fondation Mr Gay Europe et tous les candidats pour leur accueil si chaleureux. Ce fut une expérience incroyable de rencontrer en réel tous les candidats que j'avais interviewé pour mon blog et il y avait une super ambiance. Et quel bonheur de rencontrer des lecteurs de mon blog, il est plus connu que je l'imagine ! Merci à tous !
RDV à Prague pour le concours Mr Gay Europe 2013 ! Dobri Den!
(Photos et Vidéos @http://bengayeuropeen.canalblog.com)
---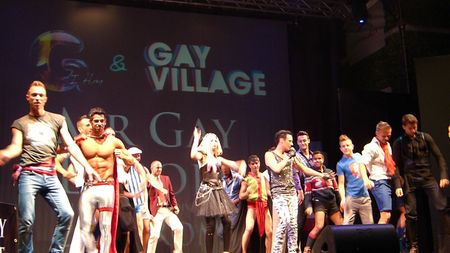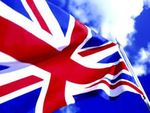 And the Mr Gay Europe 2012 contest just finished this Saturday 11th August in Rome, Italy, with the victory of Miguel Ortiz, the young Spanish delegate. Focus on this European contest.
During the whole week, the delegates took part to several challenges. Talent, swimwear, sport, culture, the challenges were numerous and diverse to win precious points for the popular Mr Gay title.
The final opening was performed by Kai Thomas, Norwegian delegate at Mr Gay Europe 2008, in a duet with Baby M of the song "Be Proud", a song that sounds like a non-official anthem for the LGBT community.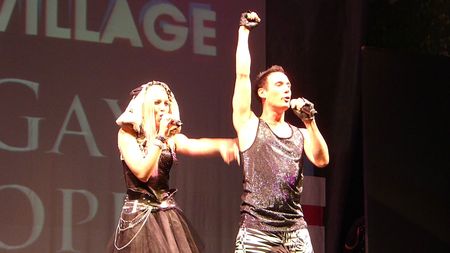 On this song, the delegates went on stage wearing national costumes. Unfortunately it was very quick, it is one of my favourite challenge, as it is always interesting to see how the delegates see their "national" costume, either reflect of their identity or big cliché. I did not have enough and I wish we could see more of the national costumes.
After that, the delegates performed once again the official choreography MGE 2012.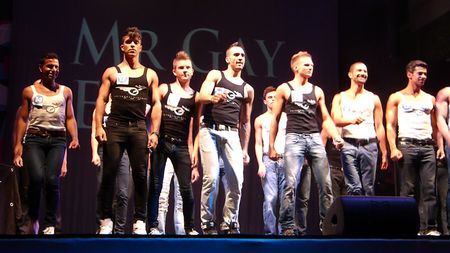 Following by the second challenge, the "clubbing" performance. What clothes do the delegates wear to go to a night club? Some have more clothes than other, some are more fashion or classical. Some tiny differences but overall very similar. It is true that European clubs did get standardized long time ago already and they mostly (only?) play the same type of music generally coming from the USA with the related fashion. Is Europe losing its identity? Should we create a European Night Club Culture?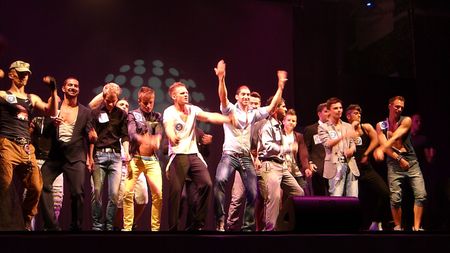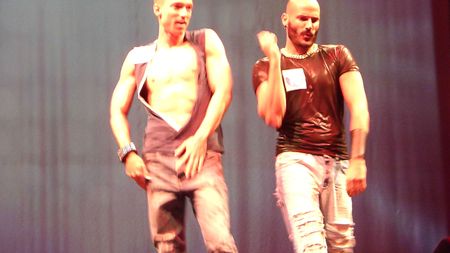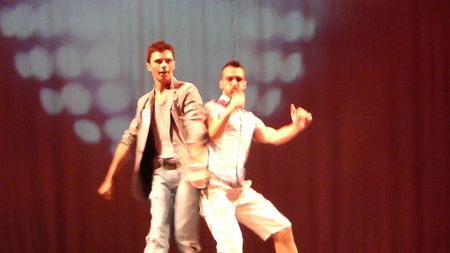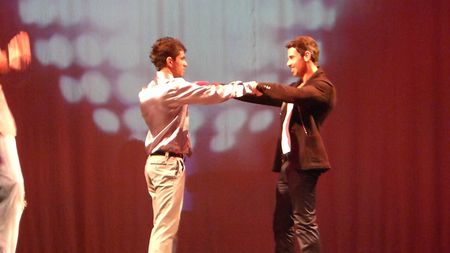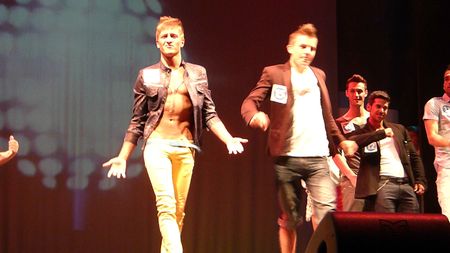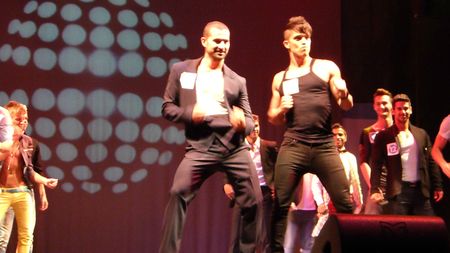 Another swimwear challenge but with different swim-wears than the day before. No big changes and this challenge remains very popular for the public.
Then we moved to the "Congeniality" challenge, this word means friendship/popularity. Each delegate has a rose that he has to give to another delegate with which he created special connexions. The big favourite was of course Argyrios Stelios Christakis, Mr Gay Greece, who participated to the contest with determination like all other delegates despite being deaf. His courage and kindness have been rewarded with 4 roses winning this challenge. A deserved victory. Besides, almost all delegates had at least one rose, which means the overall atmosphere between the Mr Gay was very good.
Before announcing the 5 finalists, let's see who won which challenges. Mr Gay Greece won the Mr Photogenic challenge, Mr Gay Italy won the Swimwear and sport challenges, Mr Gay Cyprus won the Talent challenge and the most wanted challenge was won by Mr Gay Spain, the Online Voting challenge.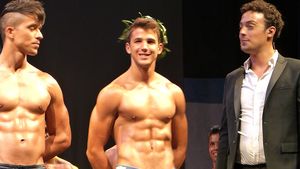 If some delegates are more favourite than other, at this time of the competition it was difficult to guess who will be the 5 finalists. Here comes the results and Spain, Italy, Malta, France and Finland did qualified in the top 5! Italy and Finland was a surprise, while Spain, Malta and France were in the favourites. Deception for Mr Gay Greece however, as he went through all the contest gaining a strong popularity.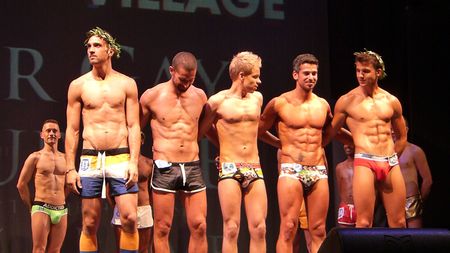 In order to select the winner, each delegate must answer a question. The originality this edition was that the questions were asked by non qualified delegates.
First question for Miguel Ortiz, the Spanish delegate: Could you be in a relationship with a deaf person? And the expected answer was : When you love someone, you love him the way he is.
Second question was for Steve Grech, Mr Gay Malta: What would you do if you were the Pope? Obvious answer: I will allow homosexuality and support LGBT rights.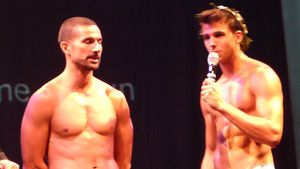 Third question for Janne Tiilikainen, Mr Gay Finland. A tricky question: What must be improved in the LGBT community? For Janne, there must be more links, people should get closer like a family.
4th question for Rémy Frejaville, French delegate: What was the most important experience in your life? Rémy talked about his participation the Mr Gay World which opened his eyes about the situation in other countries.
And last question for Nicholas Menna, Mr Gay Italy: What did you learned during the contest? A honest answer: It was the first time I met someone deaf and to get to know him changed my vision about handicap.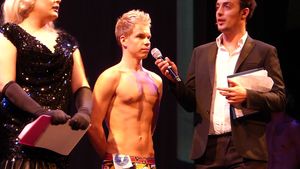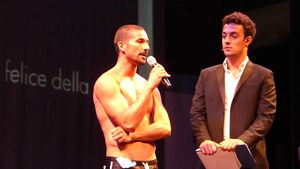 After these answers, the jury announced the 3 finalists. The adventure came to an end for Mr Gay Finland and Mr Gay France. A deception for France after the success of Rémy at Mr Gay World 3 month before and his involvement all over the Mr Gay Europe competition. But that's how the game works and Rémy can be proud about his participation, he has been an amazing delegate for France and a very good ambassador of the contest in our country.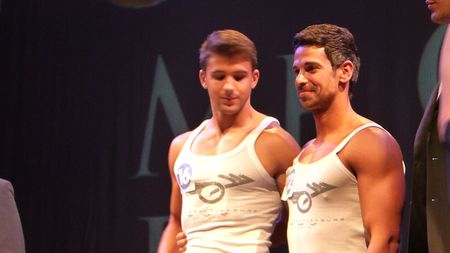 The thrill is coming to an end and Tore Aashem, president of the Mr Gay Europe foundation announced the final results. Mr Gay Italy is second runner-up, Mr Gay Malta is first runner-up and the Spanish delegate Miguel Ortiz is the winner of the Mr Gay Europe 2012 contest!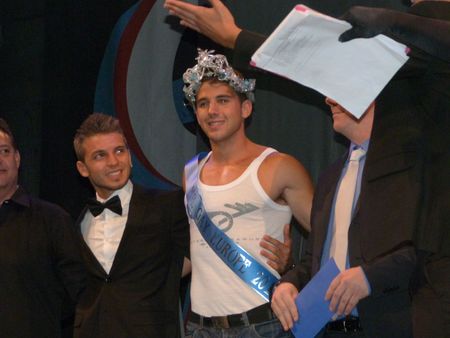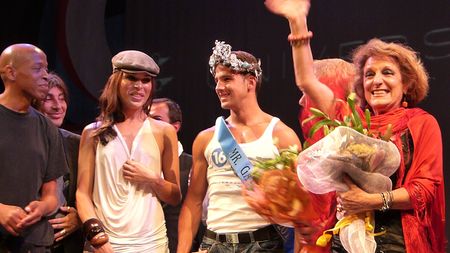 The public stands up to applause the new title holder who will be an ambassador for the European LGBT community. Up of his 19 years, Miguel could count on his beauty to give a 3rd victory to Spain. He may not realize the huge responsibility coming, but he has one year to show that the public was right to choose him as Mr Gay Europe 2012 !
Congratulations to Miguel Ortiz for his victory! Congratulations to Spain too for its 3rd victory at the Mr Gay Europe contest! And a big thank you to all delegates for making the 2012 edition so special.
I would like to thanks personally the Mr Gay Europe foundation and all the delegates and staff for their warm welcome. It was an amazing experience to meet in real life all the delegates I did interview for my blog. Besides, the atmosphere was awesome. What a pleasure to meet some of my blog readers in person, it seems that my blog is more known than I thought! A big thanks to you!
See you in Prague for the next Mr Gay Europe 2013! Dobri Den!
(Pictures and Videos @http://bengayeuropeen.canalblog.com)