English text below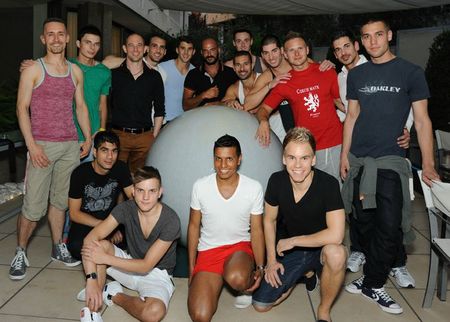 Nous y sommes. Le concours Mr Gay Europe 2012 a commencé hier soir à Rome avec l'arrivée de tous les candidats.
La journée commençait avec une mauvaise nouvelle. Steven, le candidat irlandais, devait annuler sa participation au concours pour raisons familiales. Tout le monde lui souhaite un bon rétablissement.
L'arrivée des candidats s'est passé au mieux et ils ont pu faire connaissance entre curiosité et excitation. Et c'est autour d'un repas à l'italienne et une soirée à la gay street de Rome qu'ils ont pu discuter et nouer des liens entre eux.
Aujourd'hui sera une journée chargée avec une séance photo et le début des épreuves du concours. Plus d'infos à venir tout au long de la journée.
Vous pouvez suivre le concours Mr Gay Europe 2012 en direct sur Facebook : http://www.facebook.com/events/415473211822199/
Et sur Twitter avec le Hashtag : #MGE2012
Et bien sûr, toutes les infos en français et en anglais sur le blog Benjamin, Gay et Européen.
---
Here we are. The Mr Gay Europe 2012 contest started yesterday evening in Rome with the delegates arrival.
However, the day started with a bad news. Steven, delegate from Ireland, had to withdraw to the contest for familly reasons. Everybody wishes him a good recovery.
The delegates arrival was at the best level and they got to know each other between curiosity and exitation. Around a dinner Italian style and a party at the Rome Gay Street, they discussed and started to connect each other.
Today will be a hard-working day with a photo shooting and the start of the challenges. More infos to come along the day.
You can follow the Mr Gay Europe 2012 contest live on Facebook: http://www.facebook.com/events/415473211822199/
And on Twitter with the following hashtag: #MGE2012
Obviously, you can have all infos in English and French on my blog Benjamin, Gay et Européen.