English version below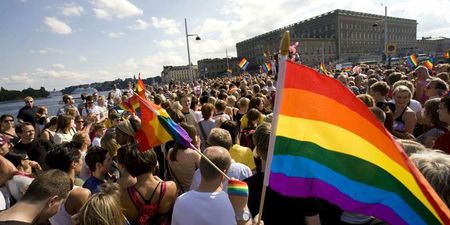 S'il y a bien une ville où l'homosexualité n'est même plus une question, c'est bien Stockholm, capitale de la Suéde. La Suéde est en effet l'un des pays les plus ouverts en Europe sur les questions de société.
Ainsi, en se promenant dans Stockholm, il n'est pas rare de croiser des couples LGBT, parfois même avec des enfants et tout cela sans que personne ne fasse de remarques. Une situation que beaucoup de pays envient.
Pour autant, être la ville la plus ouvert aux LGBT à plusieurs conséquences indirectes. Et la plus importante est que le monde LGBT de Stockholm est en train de disparaître petit à petit.
Bien sûr, le magazine QX (http://www.qx.se/) propose une carte des lieux gays de la capitale suédoise. Une carte à néanmoins lire avec précaution, car plusieurs des lieux indiqués sont seulement gay friendly au mieux.
Car il est tellement naturel d'être gay à Stockholm, qu'il n'est plus nécessaire d'avoir des lieux spécifiques pour les homos. Ainsi, les gays vont dans les mêmes cafés et boites que les hétéros, il n'y a plus de barrières. Et la gay pride de Stockholm est l'un des événements les plus festif de la capital et attire une majorité d'hétéro, bien plus que la communauté LGBT suédoise. Les bars et boites LGBT ferment progressivement.
Stockholm est-elle trop gay-friendly ? Une évolution intéressante. Une fois l'égalité obtenue dans un pays, le milieu LGBT n'a plus de raison d'exister.
---
Is Stockholm too gay-friendly?
If you should name one city where it is no longer an issue to be gay, you will name Stockholm, capital of Sweden. Sweden is indeed one of the most open country in Europe on the society questions.
For example, when you are walking in Stockholm, you are very likely to see LGBT couples, sometimes with kids, and no one cares. This is a situation that many countries would like to have.
However, being the most LGBT-friendly city has indirect consequences. And the most important one is that the LGBT community in Stockholm is slowly disappearing.
Of course, the QX magazine (http://www.qx.se/) is offering a gay map of the Swedish capital city. But you should read this map carefully, has many places mentioned are not even friendly.
As it is so natural to be gay in Stockholm, it is no longer necessary to have specific places for gays. Because gays down there are going to the same bars and clubs as straights, there is no gap anymore. And the Pride Stockholm is such a big party event that it gathers more straights people, more than the Swedish LGBT community. Little by little, the LGBT bars and clubs are closing.
Is Stockholm too gay-friendly? This is an interesting evolution. Once we reach equality, there is no need of a LGBT community any longer.