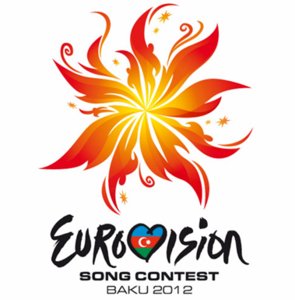 Vous connaissez tous le grand concours de l'Eurovision, le concours européen de la chanson.
Cette année, le concours se déroulera le 26 mai à Bakou en Azerbaïdjan. Comme les chansons sont en plusieurs langues, je vous propose de les découvrir en français.
You all know the Eurovision Song Contest, the most important song contest in Europe.
This year, the contest will take place in Baku, Azerbaijan. As most of the songs are in various languages, here you can discover it in French:
Austria / Autriche (Trackshittaz - Woki mit deim Popo)
Belarus / Bielorussie (Litesound - We are the heroes)
Bulgaria / Bulgarie (Sofi Marinova - Love Unlimited)
Cyprus / Chypre (Ivi Adamou - La La Love)

Denmark / Danemark (Soluna Samay - Should've Known Better)

Estonia / Estonie (Ott Lepland - Kuula)
Finland / Finlande (Pernilla Karlsson - När jag blundar)
France (Anggun - Echo You and I)

Germany / Allemagne (Roman Lob - Standing Still)
Greece / Grèce (Elefthería Eleftheríou - Aphrodisiac)

Hungary / Hongrie (Compact Disco - Sound of our heart)

Iceland / Islande (Gréta Salóme & Jónsi - Mundu Eftir Mér)
Ireland / Irlande (Jedward - Waterline)
Israel / Israël (Izabo - Time)

Latvia / Lettonie (Anmary - Beautiful Song)
Lithuania / Lituanie (Donny Montell - Love is blind)

Macedonia / Macédoine (Kaliopi - Crno i Belo)
Malta / Malte (Kurt Calleja - This is the night)

Netherlands / Pays-Bas (Joan Franka - You and me)
Norway / Norvège (Tooji - Stay)
Portugal (Filipa Sousa - Vida Minha)

Romania / Roumanie (Mandinga - Zaleilah)

Russia / Russie (Buranovskiye Babushki - Party for Everybody)

Spain / Espagne (Pastora Soler - Quédate conmigo)
Sweden / Suède (Loreen - Euphoria)
Switzerland / Suisse (Sinplus - Unbreakable)

Turkey (Can Bonomo - Love me back)
Ukraine (Gaïtana - Be my guest)
Quelle est votre chanson préférée ? Which is your favorite song?