Ruben est français, juif, homosexuel et vit en Finlande. Si le début est déjà peu commun, la suite du film est encore plus déjantée !
Let My People Go, de Mikael Buch, raconte ainsi l'histoire du jeune Ruben en quête de son identité. Alors qu'il vit le parfait amour avec Teemu, un jeune Finlandais, un malentendu va les amener à se séparer et Ruben rentrera en France retrouver sa famille, une famille très imprégnée dans la tradition juive. A peine arrivé à l'aéroport, les ennuis s'enchaîne.
Pour la suite, il faudra voir le film !
Une comédie romantique qui mélange plusieurs univers.
Dès les premières minutes, le film assume son coté gay et montre Ruben et Teemu fou amoureux. Tout au long du film, l'homosexualité n'est pas une question. Pas de coming-out, pas de parents au bord du suicide, ici le coté gay est naturel et ne fait pas débat.
Le deuxième aspect est la religion juive. Omniprésence de la mère, fêtes religieuses, tout y est et participe à la confusion dans la tête de Ruben. Sa mère est prête à accepter son homosexualité si son copain est juif. Tout est dit.
Et le troisième aspect est le plus inattendu, l'aspect européen. Les Français ont des clichés sur les Finlandais et les Finlandais ont des clichés sur les Français, mais au final, on passe d'un pays à l'autre si facilement que nous avons l'impression qu'il s'agit du même pays.
Le mélange de tout ces éléments donne un film vraiment original et complètement fou. J'ai vraiment passé un bon moment devant ce film.
Et la cerise sur le gâteau : Teemu, alias Jarkko Niemi, de Finlande. Un argument à lui seul pour aller voir le film !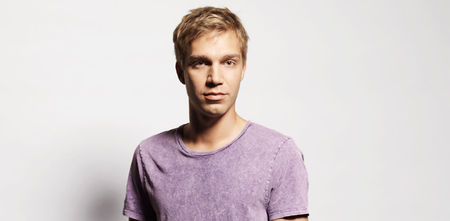 ---
Ruben is French, Jewish, homosexual and lives in Finland. If the beginning is already unusual, the following is even crazier!
Let My People Go, from Mikael Buch, tells the story of the young Ruben looking for his identity. While he was living the perfect love with Teemu, a young Finn, a misunderstanding will lead them to break up and Ruben returned to France to find back his family, a family steeped in the very Jewish tradition. Shortly after landing at the airport, the problems start.
For the rest, you must see the movie!
A romantic comedy that mixes different worlds.
From the first minutes, the film assumes its gay side and shows Ruben and Teemu madly in love. Throughout the film, homosexuality is not an issue. No coming out, no parents about to commit suicide, the gay side is natural and is no debate.
The second aspect is the Jewish religion. Pervasiveness of the mother, religious celebrations, all is there to confuse Ruben's mind. His mother is ready to accept his homosexuality only if his boyfriend is Jewish. All is said.
And the third aspect is the unexpected European aspect. The French have clichés about the Finns and the Finns have clichés about the French, but in the end, moving from one country to another is so easy that we feel it is the same country.
The combination of all these elements gives a truly original and crazy film. I really had a good time.
And the cherry on the cake: Teemu aka Jarkko Niemi, from Finland. An argument in himself to go see the movie!