Aujourd'hui, je vous propose l'interview de Maxime Aumaitre, un jeune militant français de 17 ans déjà au parcours très original. Bonne lecture !
Today, I invite you to the interview of Maxime Aumaitre, a young 17 yo French activist with a very original path. Have a good read!
---
Benjamin - Peux-tu te présenter en quelques mots ?
Can you present yourself in a few words?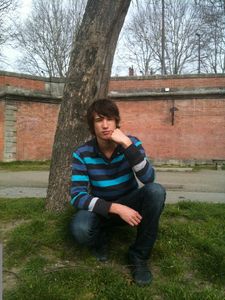 Maxime Aumaitre - Je m'appelle Maxime Aumaitre, j'ai 17 ans et demi et je vis dans la région toulousaine, au sud de la France.

Je viens de passer mon baccalauréat ES il y a quelques jours.

L'an prochain, je compte m'inscrire en fac pour faire des études de droit. J'aimerais devenir avocat dans le droit international.

My name is Maxime Aumaitre, I'm 17 years-old and I live near Toulouse in the south of France.

I just had my Baccalauréat (French exam) in economy some days ago.

Next year, I plan to register in a University to study Law. I would like to become attorney in international right.

Benjamin - Comment as-tu fait ton coming-out ? Comment ton entourage a-t-il réagit ?
How did you came out? How did your relatives react?

Maxime Aumaitre - J'ai fait mon coming-out lors de ma rentrée en première, peu avant mes seize ans. Je me souviens lorsque je l'ai avoué à ma meilleure amie, ça a été un choc pour elle ! Elle ne s'y attendait vraiment pas et ce soir-là, elle avait bu une boisson énergétique. Ses effets couplés à mon annonce et a ses petits problèmes cardiaques ont fait qu'elle n'a pas pu dormir de la nuit ! Néanmoins, c'est une des personnes les plus tolérantes que je connaisse. Elle a su montrer ce qu'était l'amitié vraie et inconditionnelle. Ce fut pareil pour la majorité de mes amis.

Très rapidement, j'ai voulu le dire à mes parents, cela s'est très bien passé. A aucun moment ils ne m'ont jugé. Bien sûr, ils étaient surpris et angoissés car ils ne connaissaient pas. Mais avec de longues discussions, j'ai pu leur expliquer. Je pense que la majorité des parents accepteraient leur enfant tel qu'il est. Le problème, c'est qu'il n'y a pas de dialogue. Il faut le dire sans ambiguïté : « Papa, Maman je suis gay, mais ça ne change rien. » et les parents de répondre : « Pour nous non plus, nous t'aimerons toujours » Ces simples phrases que la plupart pensent sont les clés de l'acceptation.

I came out when I entered in 1st class in high school, just before turning 16yo. I remember that I told my best friend about it and it was a real choc for her, multiplied by the effect of the energy drink she took that night. In the end, she just couldn't sleep! Nevertheless, she is one of the most tolerant person I know. She showed me what true friendship is. So was it for most of my friends.

I talk to my parents very quickly and everything was fine. They never judged me. Of course, they were surprised and afraid because they didn't know it. But after long discussions, I explained them. I think most of the parents would accept their kids as they are. The problem is that there is no dialog. We have to say without ambiguity: "Mom, dad, I'm gay and that doesn't change anything" and the parents to answer "Same for us, we'll love you forever". These simple sentences, that many people think, are key to acceptation.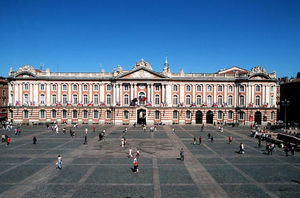 Benjamin - Tu es engagé en politique. Quelle a été la motivation de ton engagement ? Quels sont tes objectifs ?
You are involved in politics. What were your motivations to get involve? What are your aims?

Maxime Aumaitre - Je suis effectivement très engagé sur le plan politique, fervent défenseur de la philosophie libérale : "La liberté s'arrête là où commence celle des autres".

Je suis à ce titre adhérent au Parti Libéral Démocrate et affilié à l'ELDR, parti européen des libéraux démocrates, troisième force politique au sein du Parlement Européen ! L'Union Européenne subit malheureusement de vives critiques, notamment en France. Mais les gens se trompent quand ils lui attribuent tous nos maux. C'est grâce à l'Europe que nous sommes en paix aujourd'hui et d'après moi, c'est elle qui défend le mieux nos libertés individuelles.

Je pense qu'il est nécessaire pour les jeunes d'aujourd'hui de s'engager et de participer activement à la vie politique ; car c'est de cette seule manière que nous pourrons faire évoluer les mentalités et réformer la société dans le bon sens.
I am indeed very involved in politics and I fully subscribe in the liberal ideologie: "freedom ends where someone else's begins".

This is why I am member of the Liberal Democrats Party, member of the European Liberal Democrats party, third political force in the European Parliament! The European Union is under fierce critics at the moment, especially in France. But people are mistaken when they complain about Europe. Thanks to Europe we live in peace today and for me, Europe defends the best our individual freedom.

I think it is important for the youth today to get involve and take actively part to the political life. Because it is the only way we have to change mentalities and bring the society in the right step forward.


Benjamin - Que penses-tu de la situation LGBT en France ? Comment l'améliorer ?
What do you think about the LGBT situation in France? How can we improve it?

Maxime Aumaitre - Je pense qu'il y a en France, un grand décalage entre la société civile et l'Etat. Ce clivage, qui prévaut pour tous les domaines dans notre pays, est encore plus marquant en ce qui concerne les libertés individuelles, notamment celles des personnes LGBT.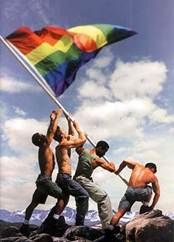 En effet, la société française est largement favorable à l'évolution des droits des personnes LGBT, notamment en ce qui concerne l'accès au mariage et à l'adoption ; comme nous le montre les récents sondages. Pourtant, la République continue de bafouer ses principes de Liberté et d'Egalité, en refusant d'accorder les mêmes droits à tous ses citoyens.

C'est aussi une raison de mon engagement politique : non pas la seule reconnaissance des droits LGBT ; mais aussi la reconnaissance du droit de vivre sa vie librement, sans qu'autrui puisse décider à notre place.

I think we have in France a big gap between civil society and the State. We have this gap in many topics in our country, but it is even more fierce about individual freedom, especially toward LGBT persons.

In fact, the French society is mainly in favor of an improvement of the rights of LGBT people in particular about same-sex wedding and adoption, as we can see in recent polls. However, the Republic continues to not recognize its principles of Liberty and Equality by refusing to give the same rights to its citizens.

This is another reason for my political involment: not only the recognition of LGBT rights, but also the recognition of the right to live one's live, without someone to decide for you.

Benjamin - Quelles langues parles-tu ? Dans quels pays d'Europe a tu voyagé ?
What languages do you speak? Which countries in Europe did you visit?

Maxime Aumaitre - Je parle français, naturellement et j'ai une assez bonne maîtrise de la langue anglaise, ainsi que quelques connaissances en espagnol.

J'ai visité l'Espagne, l'Italie, l'Angleterre, le Pays de Galles, et la Norvège.

I speak French of course and I have a good command in English, also some knowledge of Spanish.

I visited Spain, Italy, England, Wales and Norway.