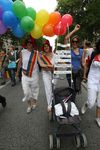 Deux des plus importantes gay prides d'Europe après l'Europride se sont déroulées ce samedi : Paris et Berlin.

Les marches se sont déroulées le même jour dans la capitale allemande et française, mais avec des mots d'ordres très différents.

A Berlin, la marche avait pour thème la lutte contre l'homophobie dans le sport. A la veille de la coupe du monde de football féminin, le thème de l'homophobie dans le sport est toujours autant d'actualité. Il suffit de voir le peu de sportifs qui osent faire leur coming out pour se rendre compte de l'étendu du problème.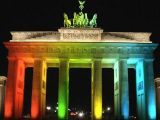 A Paris, le mot d'ordre était en 2011 je marche et en 2012 je vote. En effet, le prochain grand rendez-vous électoral des français, l'élection présidentielle, aura lieu en 2012 et les manifestants LGBT ont souhaité envoyer un message fort aux responsables politiques pour leur montrer que les LGBT existent.
Est-ce que les messages auront été entendus en France et en Allemagne ? En tout cas, les deux marches ont eu un très grand succès.
Et vous ? Est-ce que vous avez participé à une marche des fiertés cette année ?

---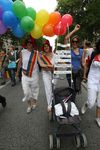 Two of the largest gay pride events in Europe after the Europride took place this Saturday: Paris and Berlin.

The parades were held on the same day in the German and French capitals, but with very different mottos.

In Berlin, the march theme was the fight against homophobia in sport. On the eve of the Women Football World Cup, the topic of homophobia in sport is still very relevant. Just look at the few sportsmen who dare to come out to realize the extent of this issue.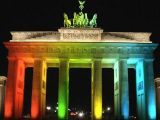 In Paris, the word was in 2011 I march, in 2012 I vote. Indeed, the next important election in France, the presidential election, is in 2012 and the LGBT demonstrators wanted to send a strong message to political leaders to show them that LGBT people exist.
Have the messages been heard in France and Germany? In any case, the two marches were great successes.
And you? Did you take part in a Pride this year?