Quelle est la situation des gays en France ?

Guillaume Barbier, un jeune homme gay de 26 ans, très engagé pour faire avancer les droits LGTB en France, témoigne de son expérience et nous dessine une image de la France d'aujourd'hui.


Est-ce que tu peux te présenter en quelques mots ?
Could you present yourself in a few words ?

Je m'appelle Guillaume Barbier, j'ai 26 ans, j'étais éducateur technique dans un centre médico-social pour ados et actuellement je prépare le concours d'assistant de service social. Mes passions sont la mode, la musique, le sport, la nature et les animaux. Je suis assez "curieux de la vie" et m'intéresse à beaucoup de choses.
My name is Guillaume Barbier, I'm 26. I was youth worker in a social-medical center for teenagers. I am currently working on an examination to become assistant in the social service field. My passions are fashion, music, sport, nature and animals. I'm quite curious and I'm interested in a lot of topics.
Comment as tu découvert ton homosexualité ?
How did you discovered your homosexuality ?
Pour moi ce n'est pas une découverte, je l'ai toujours su. J'ai grandi avec l'idée qu'un jour je vivrai avec un mec. En revanche j'ai fais mon coming-out à l'âge de 24 ans. Pendant toutes ces années je vivais caché, ce qui fut très difficile à gérer. J'avais très peur d'affronter mes parents, mes frères. Et un jour je me suis lancé, j'ai réuni mes parents, mes frères et mes belles sœurs. Mes frères et leurs femmes ont très bien réagit, mais en revanche mes parents très mal. Pendant des mois nous avons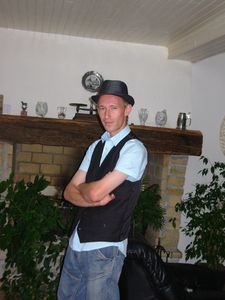 coupé les ponts, mais au final ils ont réalisé que j'avais souffert pendant toutes ces années et aujourd'hui je vis pleinement mon homosexualité. J'ai la chance de faire partie de ce petit pourcentage de gays qui sont bien dans leur peau, c'est une des raisons pour laquelle je me bats pour faire évoluer les droits LGTB en France.
It wasn't a discover for me, I've always knew it. I grew up with the idea that one day, I'll live with a guy. However, I came out when I was 24. During all these years, I hided myself, it was a very difficult time. I was afraid of facing my parents, my brothers. And one day, I did it. I gathered my parents, my brothers and their wifes. My brothers and their wifes did react in a good way, but it was difficult for my parents. During several months, we had no contact between each other, but at the ennd, the realised that I had suffered during all these years and that I was finally living my real life now. I have the chance to belong to the small percentage of gays that are happy in their shoes. This is one of the reasons why I want to fight to make things change in France about LGTB rights.


Quelles sont les problèmes que tu as pu rencontrer en France à propos de ton homosexualité?
What kind of problems are you confronted of about your homosexuality ?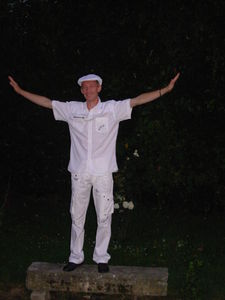 Le plus dur fut le lycée, une classe de 30 élèves, 27 garçons et 3 filles, j'étais rejeté, humilié, insulté par les garçons, mais jamais je n'ai baissé les bras, je suis toujours allé de l'avant en me disant que ma différence était une force et que c'est pour cette raison que je dérangeais.
Aujourd'hui il m'arrive de me faire insulter gratuitement dans la rue, c'est pas toujours facile il faut bien l'admettre.
The most difficult period was High School. I was in a class of 30 students, 27 boys and 3 girls. I've been rejected, humilated, insulted by the boys, but I have never give up, I always went forward telling myself that my difference was a strenght and that's why the reason why I was disturbing.
Today, I sometimes get insulted freely in the streets, it isn't always easy, I have to admit it.
Que faudrait-il améliorer en France pour les questions LGTB ?
What need to be improved in France about gay rights ?

Personnellement je trouve qu'il y a tout à faire. Certes il y a quelques petites évolutions en France, mais ce n'est pas encore assez. Le sentiment que j'ai c'est "tu es gay, tu as fais ton coming-out, c'est bien, mais maintenant tu fermes ta gueule et tu vis discrètement" sauf que non, la vrai évolution sera d'avoir les même droits que les hétérosexuels, c'est à dire le mariage et l'adoption possible pour les couples homosexuels, afin de former une famille.


Personally, I think we have everything to achieve. Of course, there are some little changes in France, but it is still not enough. My feeling about the current situation in France is "You're gay, you came out, that's fine, but now you shut up your mouth and you live discretely" but no, the real step forward will be to have the same rights as straight people i.e marriage and adoption, to have the rights to found a family.
Vous pouvez contacter Guillaume sur son profil facebook ici:
http://www.facebook.com/profile.php?id=1204459111&ref=ts